Scuba diving kind of happened for me by accident. It'd been something that I'd always thought about doing, but never really got around to trying out. But as luck had it, a couple of my friends were headed south and wanted to learn, and dragged me along. The rest is history.
What appeals to me so much about scuba diving is the way it allows me to clear my mind. When I'm beneath the surface, I think of nothing else except the dive and what I'm doing. And as a long time land based photographer, I quickly learned that I could integrate my old hobby with my new hobby, and soon I began shooting pictures on almost all my dives.
My underwater photography has mostly been self taught, relying on resources such as Scubaboard, my dive buddies, and trial and error. I originally started with an Olympus C5050 point and shoot camera with an Olympus housing. I added to it two INON strobes and a wide angle lens. After a while, I was itching for something more and made the leap to digital SLR with the Nikon D-70. I have subsequently upgraded a couple of times to my current system, the Nikon D3.
My love of diving and wanting to share it with others inspired me to become an scuba instructor, which I enjoy immensely. Naturally, my favourite course to teach is underwater photography.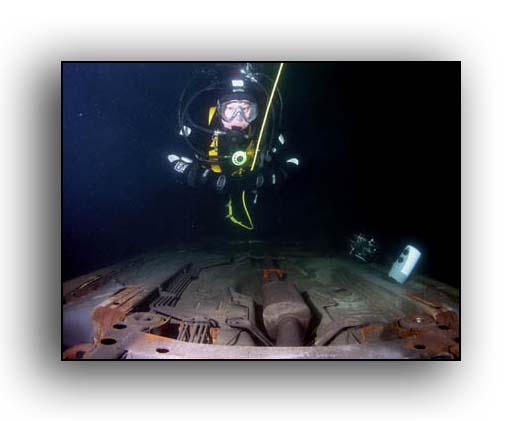 Ice Diving in Lake Simcoe - March 2005
An unfortunate ice fisherman's car that fell through the ice